When you work out and do hands-on activities, it is imminent that you will develop calluses. Calluses serve a useful purpose at times as it creates a barrier for your hand and protects you against any rough surfaces. Calluses are hardened areas on the side that are formed from dead skin cells and immense pressure placed on the hand.
Professional Callus Softener quickly and effectively softens calluses and dry skin. It is a spray-on formula that provides an effective, instant softening treatment for calluses, toenails and cuticles, dry keratinized skin, hyperkeratosis and fissures/rhagades. This non-aggressive formula does not need to be washed off. You can get FootLogix Callus Softener Combo when ordering online.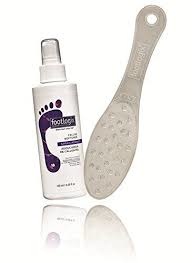 Role of Callus Softeners
Penetrates into the skin, softening the skin for easy callus reduction

Significantly shortens treatment duration by reducing time required for filing of calluses

With Urea content, calluses and cuticles are hydrated

Non-aggressive formula is safe for diabetics and all skin types

Pump spray makes Callus Softener easy to use
How to use callus softener
Spray callused areas and cuticles from a distance of approximately 5" until skin is moistened.

Allow to penetrate for 2 to 3 minutes or until skin is still damp but no longer wet (depending on the thickness of the calluses). May be reapplied as necessary.

File callused areas with a professional foot file

When finished filing, remove debris with a towel and re-spray the foot lightly with the Callus Softener. Do not wash off: the product will continue working with cumulative, long-term effects.
Non-occlusive callus softener softens the skin for easy callus reduction. The foot file is double-sided with a high-quality stainless steel coarse and fine grit; multi-directional, will not shred skin. Easy to clean. Products are safe for all skin types including diabetics.